Twentieth Century England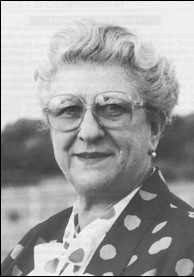 Joan Wells-Meacham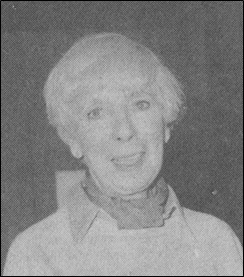 Mildred Seiffert
 In 1967 two Basset breeders, Mrs Joan Wells-Meacham (Fredwell) and Mrs Mildred Seiffert (Maycombe), visited the Paris show. Joan had judged Bassets in France previously and had already seen the smaller size of BGVs. Both she and Mildred were captivated by this happy, rough-coated breed displaying the most wonderful temperament. Returning the following year, they persuaded Hubert Desamy to help them find some to import into England.
In February 1969 negotiations began with Thelma Peress, Club du Basset Hound Secretary, acting as intermediary. The following month she wrote to Mildred asking whether she would prefer the small (34-38cm) or the large (38-42cm) BGV. As BGVs were normally registered with the Club du Griffon Vendéen and not the Societé Centrale Canine, Mildred checked with the Kennel Club to make sure they would accept for registration any BGV only registered this way. The KC confirmed that, as long as they were registered with the SCC before export, this was acceptable. On 31 May Thelma Peress wrote with the good news that, although M Desamy was still looking for a suitable bitch, he had found an excellent male bred by Eugene Roquand. The asking price rose from 450 to 500 Francs but the deal was sealed and, on 24June, Mildred wrote to M. Roquand letting him know that she and Joan were returning to France to search for a suitable bitch. With one bitch they had set their sights on already sold, M Desamy let Mildred know that he had found another - Orée de la Tour de César (Jalon de Coeur Joie ex Ninon de la Breche des Charmes), bred by Henri Mounac and owned by René Tixier.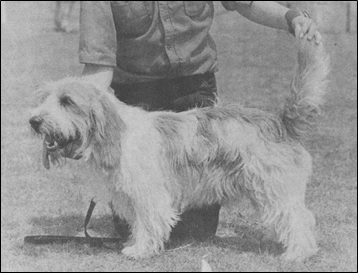 Rigolo de la Vrignaie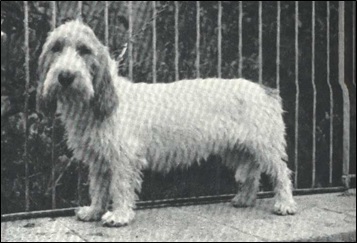 Petit Prince de la Levraudière
On 8 December 1969 Rigolo de la Vrignaie (Pillou ex Noisette de la Virgnaie) arrived in the UK.  He was born on 6 October 1968.
Although older than they had been led to believe, being born on born on 26 September 1965, Orée stayed in France to be mated to M. Desamy's best dog, Petit Prince de la Levraudière, before being sent to England.
Unfortunately a rabies scare in England the following year foiled these plans and a cable sent to M. Desamy arrived too late to prevent the mating. On 28 May 1970 Orée produced a litter of seven – in France. The dogs were named Aiglon, Artemis, Adolphus and Azur, the bitches Annetta, Arlette and Ariane. On 26 June, as Orée's owner, Mildred Seiffert signed the Declaration of Birth, which went to the SCC. On 13 October Orée and two of her pups, T'Annetta and T'Arlette, travelled by Air France to England to begin their six months quarantine.
 
As these dogs were registered as "Basset Griffon Vendéen" in France they were also registered as "Basset Griffon Vendéen" by the English Kennel Club.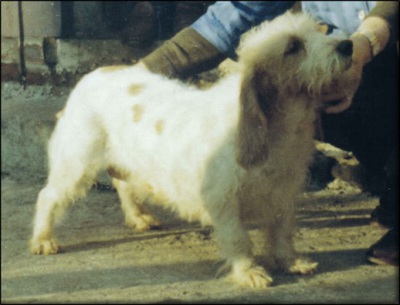 Orée de la Tour de César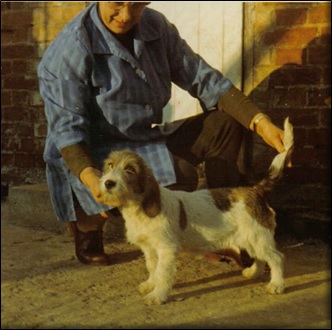 Joan Wells-Meacham with T'Annetta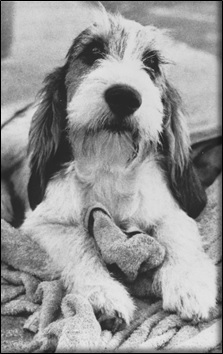 T'Arlette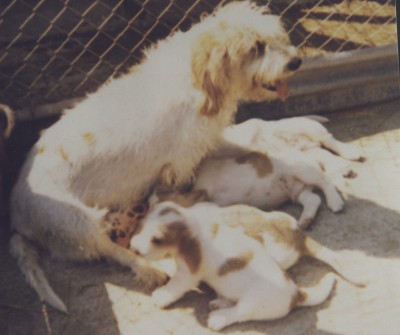 Orée and her pups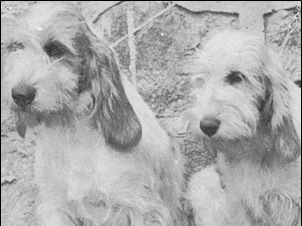 Jomil Asputin and Jomil Bernadette 
When mated to Rigolo de la Vrignaie, Orée produced one more litter. On 4 July 1971 five dogs and the Jomil (Joan and M​​il​dred) kennel name were born. From this "A" litter, Aiglon went to the Bergishagens in Michigan, Ajax to Edith Hurling in Australia, Asputin to Betty Mitchell in Ireland, Aristotle to Basset breeder, Joan Walker, and Angelo to John Evans, Vice Chairman of the Basset Hound Club and Master of the Albany Basset pack.
On 26 October 1971 T'Arlette, rather longer on the leg than T'Annetta, produced the first of two litters from a mating to Rigolo. The "B" litter included Bayard, Bernadette who went to Mrs Mitchell, Bacchante to Mildred, Bartolo and Bolivar to Switzerland and another dog, Bourbon to Mrs S E (Nickie) Hunt's Huntersbrook kennels in Suffolk.
The "D" Rigolo ex T'Arlette litter was registered as born on 30 November 1972.  Delice went to Carla Gerber-Niedenzu in the Netherlands and Danielle became Nickie Hunt's foundation bitch. Early the following year some of the "D" litter went to Basset breeder Mrs J Aldridge (Wilcove) in Cornwall and one was registered as Dandini of Wilcove.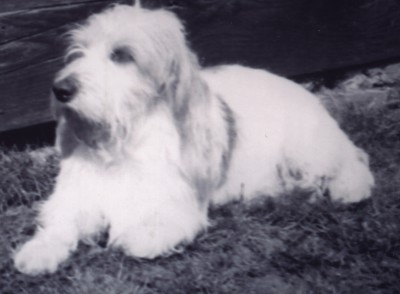 Jomil Bourbon of Huntersbrook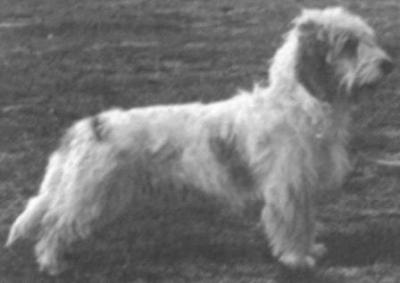 Hubbestad Harrods 
Two of the Jomil "D" litter then passed from Mrs Aldridge to Harrods Department Store in London. One took on the name Harrods Perrine when sold to Mr York. The other was bought by Gerd Ohm and went to her future husband Geir Flyckt-Pedersen at his Hubbestad kennels in Sweden. He was called Hubbestad Harrods.
In 1973, from the Jomil "C" litter (Rigolo ex T'Annetta) born 17 April 1972 (which included Cabotin, Camile, Chatelain and Colibri), Claudette went to Australia to join Ajax, the first import there.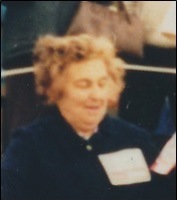 Joan Walker 
1973 saw another breeder embarking on importing when Joan Walker went to Mr Richartz of Luxembourg and brought into England Windsor von Schloss Isabella to join his half-sister, Vloret (Fr/Int Ch Titus de la Réote ex Salée de la Bougrière). Vloret was born 2 September 1972; Windsor on 27 December, 1972 (Titus ex Nina de la Réote). He was not used widely at stud though contributed to Ruth Brucker's Twinrivers and Nickie Hunt's Huntersbrook early lines.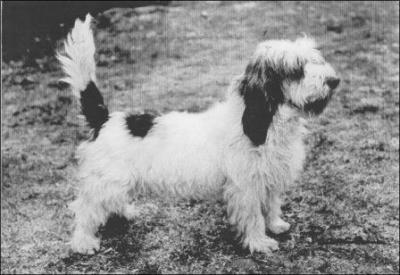 Windsor von Schloss Isabella
On 21 March 1974 Nickie Hunt's first Huntersbrook litter was born from a breeding between Jomil Bourbon and Danielle.  Then, on 22 July of that year, the Jomil "F" litter (Rigolo ex T'Annetta), was born.  This produced Fanchette, who went to Rita Rossi (Arilica) in Italy; Flambard and Farandole were Ruth Brucker's first PBGVs at Twinrivers; and Fanfare was Nick Valentine's eagerly sought foundation bitch for his Bradley Vale pack. Joan Wells-Meacham kept Fauvette, one of the all too scarce bitches, for herself.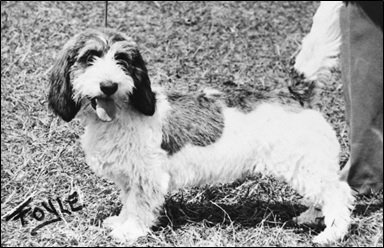 Jomil Fauvette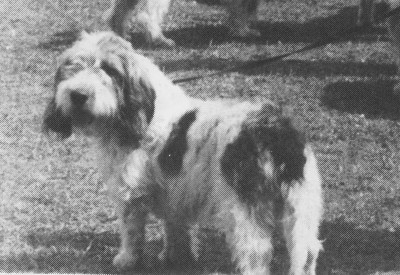 Akerwood Amos
When mated to Angelo, on 24 July 1974 Bacchante produced one puppy, Elisette, who went to Martina Hoffman in Sweden.
Then on 29 March 1975 Joan Walker's first litter was born.  A mating between Windsor and Vloret produced the Akerwood "A" litter, including Athol, who went to Philip Haas in Denmark; Alpha to Marianne Ranåker [Månsson] in Sweden, Astre and André.  Amos went to Peter and Monica Baker's Dawbak kennel.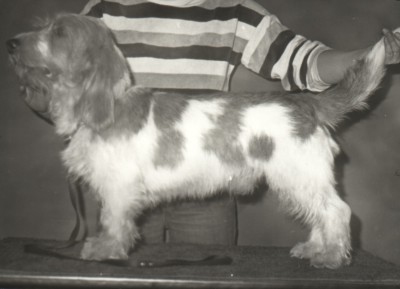 Jomil Hotspur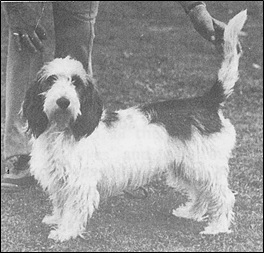 Twinrivers Alouette
Over the next few years Jomil, Akerwood, Huntersbrook and Twinrivers breedings were the mainstay of the breed.
Significantly, the 1976 Jomil H litter (Rigolo ex Fauvette) produced Hotspur, Per Knudsen's foundation PBGV at his Morebess kennel in Denmark.
Then, from a mating between Windsor von Schloss Isabella and Jomil Farandole, Ruth Brucker's Twinrivers "A" litter was born on 13 December that year producing her own Alouette and Armand of Jomil.
On 30 April 1977 from a Windsor ex Gitane (Rigolo ex T'Annetta) breeding Jeannemart was born and as such represented the Jomil "J" litter. She went from Mesdames Harvey and Gurney to Evan Roberts of Varon Bassets as his first PBGV. Two years later, on 3 January 1979, the white and grizzle Arilica Otello (Int Ch Untel de la Bourgrière ex Junon de Fin Renard) arrived in quarantine. He was from Rita Rossi in Italy, who had established a line of pure petit breeding based on René Tixier's De Fin Renard hounds. Otello provided that all important outcross for Jomil.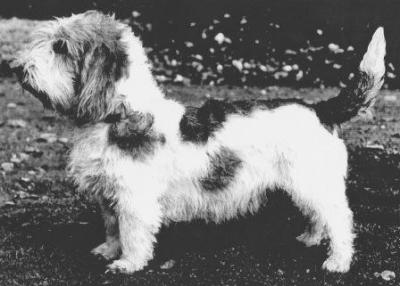 Jeannemart of Varon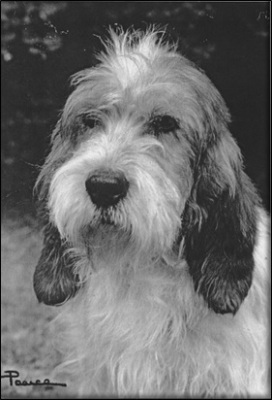 Arilica Otello

photo Pearce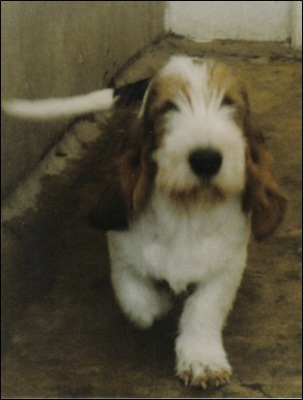 Pacha des Barbus d'Entre Lac