BGVs
Bassets

EYE PROBLEMS  Primary Glaucoma is an inherited canine condition which is known to exist in both the Petit Basset Griffon Vendéen and, to a lesser extent, the Basset Hound.  It is sub-divided into two types - Open Angle Glaucoma (POAG) and Closed Angle Glaucoma (PCAG).  In both forms glaucoma results from reduced drainage of fluid within the eye, causing a build up of pressure and damage to the delicate structures within the eye.  This in turn leads to pain and probable blindness.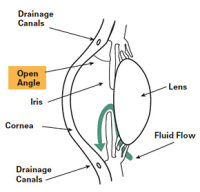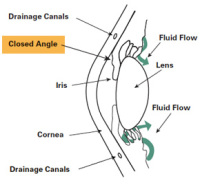 Open angle glaucoma is the most common form of glaucoma, caused by the slow clogging of the drainage canals, resulting in increased eye pressure.  There is a wide and open angle between the iris and cornea.  It develops slowly and is a lifelong condition and has symptoms and damage that go unnoticed.

Closed angle glaucoma, which is less common, is caused by blocked drainage canals, resulting in a sudden rise in intraocular pressure.  It has a closed or narrow angle between the iris and cornea, develops very quickly, has symptoms and damage that are usually very noticeable and demands immediate veterinary attention.
EYE TESTING
The British Veterinary Association/KC Eye Scheme offers breeders the facility of eye testing to screen for inherited eye disease.  Anyone can use the information to eliminate or reduce the frequency of eye disease being passed on to puppies.  Although any breed can be examined for eye disease, currently only the results of those breeds that appear on a list (Schedule A) produced by the Kennel Club have their results included on the KC computer records and published in the KC Breed Records Supplement. 
In general, the best age for eye testing, carried out by a British Veterinary Association
Eye Specialist, is before a dog has reached one year old.   If you are a Kennel Club
Assured Breeder, check for the requirements applying to your breed. 
GONIOSCOPY  A test for Gonioscopy need only be done once in a dog's lifetime, from 4 months old onwards.  Its purpose is to ensure that the angle is open and to gather information on what is generally described at pectinate ligament dysplasia.  PLD may influence the speed of POAG progression.  It may also indicate other angle abnormalities within the ciliary cleft (the area lined by the pectinate ligament which contains wide spaces, interspersed with cell-lined cords of connective tissue, defined as the trabecular meshwork) which might contribute to the overall situation.  The advent of DNA testing in PBGVs early 2015 rendered this test now unnecessary  for the breed.

TONOMETRY  This is done annually, particularly up to the age of 6.   Twice a year is preferable and, if a dog is related to a known "affected", every 3 months is advisable.
Your own breed club will advise on regular testing and on any subsidies available.
 
BVA/KC Eye Panel List 2019

KC Assured Breeder Health Screening Requirements
This is Glaucoma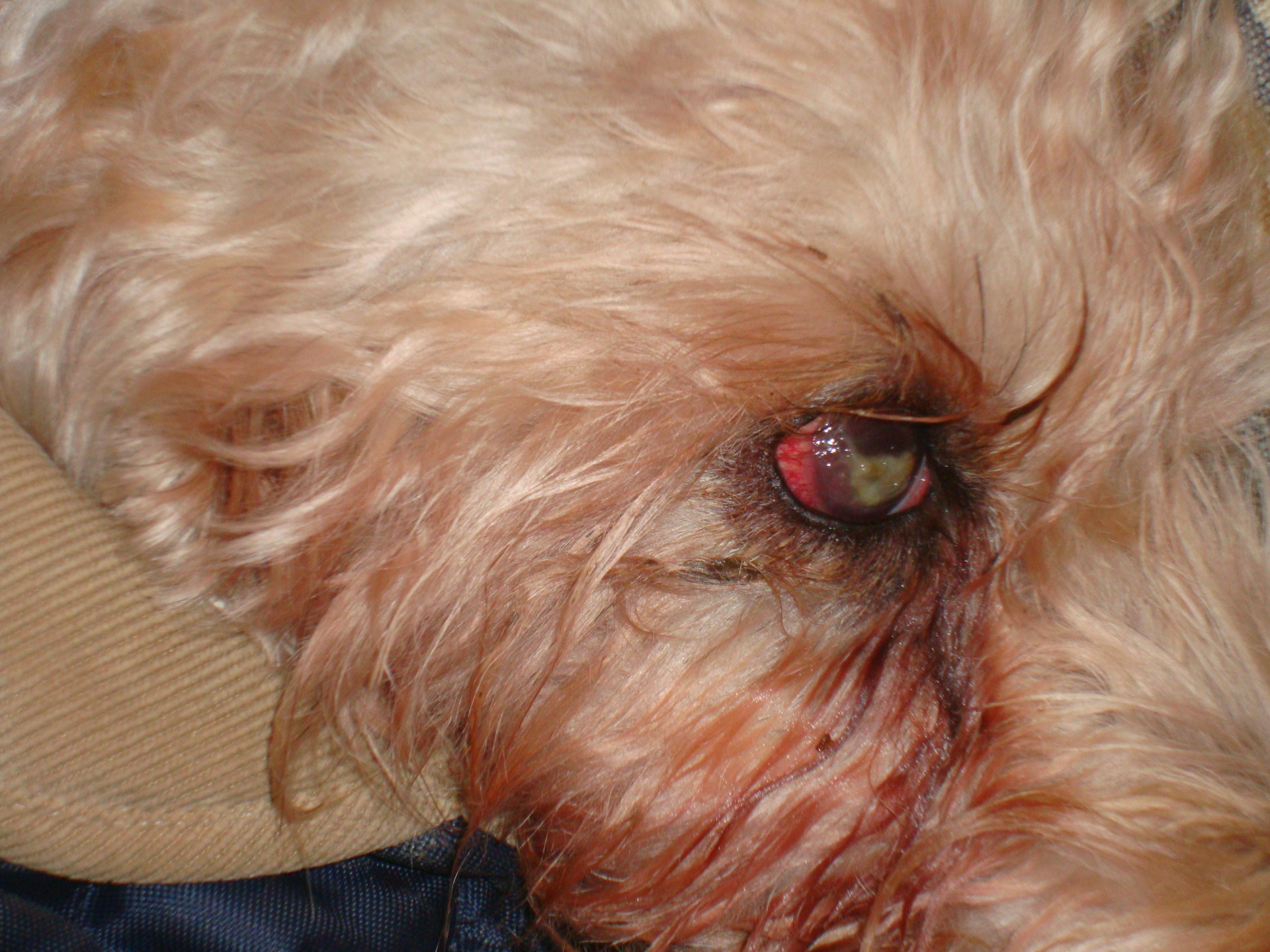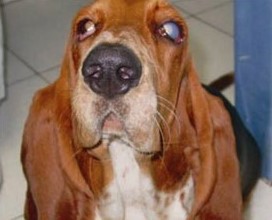 PRIMARY CLOSED ANGLE GLAUCOMA IN THE PBGV
Although rare, during the screening process of PBGVs, Primary Closed Angle Glaucoma has been found. This type of glaucoma is more difficult to detect as the problem occurs further down in the eye structure and pressures can be OK one day and escalated the next.  It is more complex than POAG and may involve more than one type of mutation making it harder to find in the canine DNA.
PRIMARY CLOSED ANGLE GLAUCOMA IN THE BASSET
The Basset Hound is one of the few breeds predisposed to this inherited condition.  Predisposed means that the condition may be detected in a dog but it will not necessarily develop it.  While PCAG exists in Bassets, very few actually go on to develop it.  For those that do, sadly most affected dogs need to have their eye or eyes removed.
 
PRIMARY OPEN ANGLE GLAUCOMA  IN THE PBGV 
The Basset Griffon Vendéen Club has worked closely with the Animal Health Trust for many years and 2014 heralded the exciting news that research at the AHT had led to the identification of the gene responsible for Primary Open Angled Glaucoma in PBGVs.  With breeders playing their part and breed clubs worldwide coming on board, the breed is now a giant step forward in eradication of this disease.
​

PRIMARY OPEN ANGLE GLAUCOMA IN THE BASSET 
During 2015 the AHT uncovered cases of POAG in Bassets, a condition not previously recorded within the breed. Thanks to their expertise the mutation responsible was found and a DNA test launched swiftly to help breeders nip this form of glaucoma in the bud before it becomes a wide-spread problem. 
Although the AHT has not seen many Bassets affected by this form of glaucoma the carrier rate is estimated to be at about 15-16% in the UK Basset Hound population, which is relatively high.  Therefore DNA testing before breeding will be vital to get this form of glaucoma under control. 


www.aht.org.uk/cms-display/genetics_canine.html
Owners can now send cheek swabs to the AHT, having first paid on-line for the test at
AHT information on POAG in Bassets
For DNA test go to either www.aht.org.uk or www.animaldnadiagnostics.co.uk
The AHT analyses these and sends you a Letter of DNA Analysis, which will tell you whether your hound is Affected, a Carrier, or Clear of the disease.
DO ALL HOUNDS NEED TESTING REGARDLESS OF AGE? 
YES!   Certainly all breeding stock should be tested. However, if you own several you may not need to have all of them tested as you may be spending money unnecessarily. Look at your pedigrees and start with the older hounds. In many cases this will entail liaison between breeders where one has used another's stud dog. If both sire and dam are tested clear, off-spring from that mating will automatically be hereditary clear, thus no need to test them. However, with the various possible permutations, any other than progeny from two clear parents will require testing to establish their status. This is especially important with those destined for reproduction, as the key to managing genetic conditions with a DNA test through successive generations is in knowing exactly where the faulty copies of the genes are.
IF A BREEDING BETWEEN TWO CLEARS BEARS NO RISK, WHAT ARE THE CONSEQUENCES OF OTHER MATINGS? 
The charts here shows the likely outcomes of various breedings: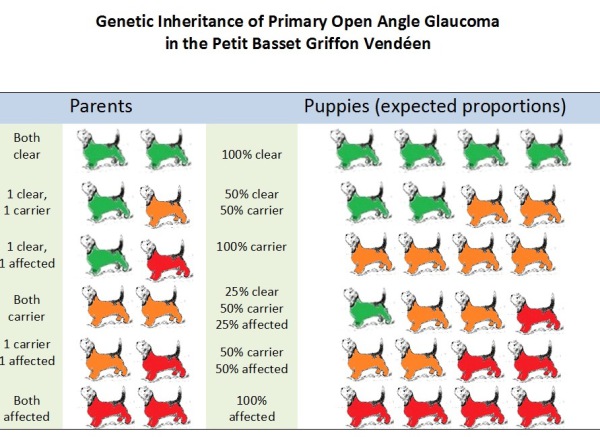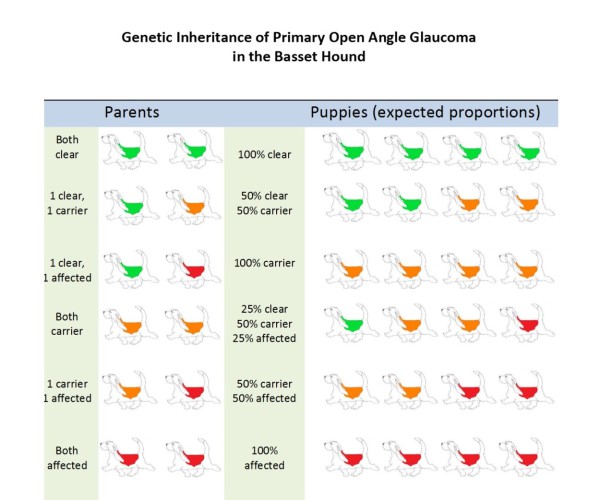 For example, a carrier can still be used for breeding purposes but the carrier will need to be put to a clear to avoid producing affected offspring. The resultant litter from such a mating would produce on average 50% carriers for the mutation. Although statistically two carriers will produce affected, it isn't guaranteed. Each dog carries one good and one faulty gene, so there is a chance that both sire and dam passed on their good gene.
As a breeder, even if you endorsed your puppies "Progeny not eligible for registration", based on known test results of the parents, if your litter is other than 100% clear, it will be your responsibility to contact those who bought a puppy from you, advising they get their hound's DNA analysed if they intend breeding - and making them alert to the possible consequences of reckless breeding.
Breeding with Carriers
SO SHOULD WE BREED FROM CARRIERS?  Cathryn Mellersh at the Animal Health Trust produced a valuable and useful paper on the subject giving advice that carriers should always be included in the first one or two generations that follow the launch of a DNA test  for a recessive mutation
WHAT IS THE DIFFERENCE BETWEEN ORDERING SWAB KITS AND ORDERING SWAB TESTING?
The Animal Health Trust will provide swab test kits free of charge if you let them know how many you need by e-mailing 
When you have a kit and have swabbed your hound's mouth, you can order the actual swab testing and analysis by going on the AHT website www.ahtdnatesting.co.uk/ inserting your hound's registration details and microchip number - and any discount code you may have - then paying for the test on-line by credit or debit card.
IS VETERINARY OR OTHER RESPONSIBLE CONTROL NEEDED WHEN SWABBING?
The AHT will accept swabs done by the owner, though their on-line form contains space for a vet to confirm that he/she has checked the microchip number during swabbing, if you so wish.
IS THERE ANY DISCOUNT AVAILABLE?
Some clubs have provided a subsidy to help with the cost, though reimbursement has been time limited.  Check with your own club.
DO I GAIN ANY BENEFIT FROM BEING AN ASSURED BREEDER?
As a Kennel Club ABS member, you are entitled to a discount. Go onto www.mykc.org.uk, log on, go to the Special Offers page and there you will find a 30% discount code from the AHT for their DNA tests for genetic diseases.
​DO ANY CONDITIONS APPLY FOR A PBGV ASSURED BREEDER?  As a Kennel Club ABS member,  you are obliged to DNA test your PBGVs.  This became effective from 20 July 2016.  It will not be necessary for those who breed from a clear sire and clear dam, as the offspring will be automatically hereditarily clear.
HOW DO OVERSEAS OWNERS ARRANGE TESTING?
Contact the AHT at dnatesting@aht.org.uk to let them know how many swab test kits you need. You can swab your hounds at home, order and pay for the tests on-line, then return the samples for analysis to the AHT, Lanwades Park, Kentford, Newmarket, Suffolk CB8 7UU, England.
THE AHT ALREADY HOLDS MY HOUND'S SWABS, DO I NEED TO RE-SUBMIT? 
If a sample has been used in the AHT's research and contributed towards finding the causal mutation, they usually report their findings directly to the owner after a DNA test is launched. For PBGVs, only a few cases were used to achieve this goal. PBGVs whose eyes are OK were not needed. While an increase in the intra-ocular pressures would indicate a case, an absence of this increased pressure doesn't necessarily indicate an unaffected control - the hound could be a carrier. Submissions for DNA testing should ideally be traceable from when the order is placed through to providing the result. An exception to this is where a new sample is unobtainable because the dog has passed away since the research sample was submitted. Ask the AHT if you want a Letter of DNA Analysis and give a donation to help with the cost of analysis.
HOW DO I FIND OUT THE STATUS OF A PBGV/BASSET WHEN CONSIDERING A MATING OR BUYING A PUPPY? 
For PBGVs, DNA test results are gradually fed through from the AHT to the Kennel Club.  A similar record for Bassets is available, showing results of eye testing.
http://www.thekennelclub.org.uk/health/breeding-for-health/dna-screening-schemes-and-results/dna-screening-for-breeds-a-b/basset-griffon-vendeen-(petit)-dna-screening/
You can also view information on any hound, including health checks.  Log onto www.mykc.org.uk (if necessary by requesting a new account by inputting a Username and Password). To find details of any hound, go to Tools and Resources at the top and click on that. Then Look Up a Dog, click on the breed name. Then enter the name of the hound you wish to find details of.
WILL I STILL NEED TO GET MY PBGV'S/BASSET'S EYES TESTED? 
YES!!!
  DNA testing is not an alternative to clinical testing but rather a tool to be utilised by breeders in conjunction with their normal selection criteria of conformation, temperament etc. Any dog or bitch intended for use in breeding should continue to be clinically screened on a regular basis. Certainly an eye examination before breeding is advisable in case there is a problem.